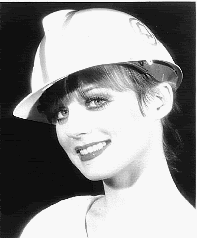 In 1977 Meri had a huge international one hit wonder of the novelty sort. Her ditzy-woman style, full of suggestive, double-entendres was a hoot. I remember I bought this song on 45. For those youngsters who may be puzzled, a 45 was a little record with a big hole in it that had two songs on it. One on the front and back.
Wilson recorded the self-penned novelty "Telephone Man," a double-entendre-rich tale of a woman...um, "serviced" by her AT&T technician("…just show me where you want it and I'll put it where I can"); the single cracked the Billboard Top 20 in the U.S. and the Top Five in the U.K., going gold on both sides of the pond. It was also a staple of Dr. Demento's syndicated radio program. Her attempts to follow "Telephone Man" with the like-minded "Peter the Meter Reader" and "Dick the DJ" went nowhere, and she ultimately retired to Americus, GA, to raise a family and teach choir.

Meri was killed in an SUV accident on Dec. 29, 2002 in Americus, GA at age 53. Shortly before that she had released a self titled album on the Ansley label. Those damn SUV's! It's a cute song.


Telephone Man by Meri Wilson

I have no idea where you can buy her stuff. Good luck.