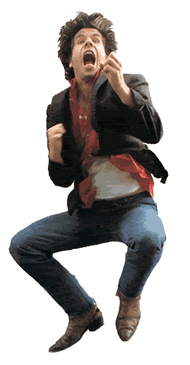 How could we go into the weekend without a little vibrator lovin' fun from Mojo Nixon and Skid Roper? Vibratorzilla it'll be. Today's post is courtesy of the 1989 must have album, Root Hog or Die. This album has something for everyone, from the family favorite Debbie Gibson is pregnant with my 2-headed love child, to the epic tear-jerker She's Vibrator Dependent.

Mojo Nixon won a fervent cult following with his motor-mouthed redneck persona and a gonzo brand of satire with all the subtlety of a sledgehammer. Celebrating lowbrow, blue-collar America in all its trashy, beer-soaked glory, Mojo's music was performed in maximum overdrive on a bed of rockabilly, blues, and R&B. As the Dead Milkmen once pointed out in Punk Rock Girl, "if your store ain't got Mojo Nixon, then your store could use some fixin" - in other words, everybody needs a bit of Mojo in their lives! This is one of my favorite albums of all time. There isn't a bad cut on the whole album and it's wickedly good. I encourage any young uns that haven't heard of Mojo to check him out, and some of us old timers may want to revisit his catalog.
Mojo has publicly stated that he encourages His fans to burn copies of his CDs and swap show tapes and MP3s. I hear you mojo and I obey.

She's Vibrator Dependent by Mojo Nixon





From his show rider
posted on
mojonixon.com...

Lots of FLASH Photography
(For ELVIS in Las Vegas effect)
a) Please do not turn away cameras
b) Please allow Mojonites to tape shows.