Today in Music History:

In 1976, Ian Dury played his last gig with Kilburn and the High Roads before starting his solo career. The show at The Assembly Hall, Walthamstow also had The Sex Pistols and The Stranglers on the bill.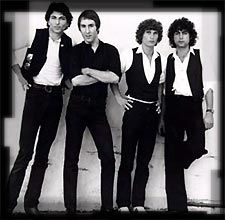 I suppose I should post an Ian Dury song, but I'll go a different direction. Don't anybody groan because I'm doing a post on The Knack. This post will not be about my least favorite Knack song, My Sharona. Hailing from Los Angeles the Knack played the club scene incessantly in 1978. By November of 78, 13 record companies were engaged in bidding war for their services. Capitol records won. They entered the studios and eleven days later came out with their first album, "Get the Knack", for a cost of 17,000 dollars. The songs were recorded live with nary an overdub.
With marketing support from Capitol and a bunch of infectious pop tunes, the record flew off the shelves. Gold certification took
13 days
. Platinum certification came in less than seven weeks, making "Get The Knack" one of the fastest to gold / platinum debut albums of all time. This at a time when disco was the biggest thing in the world. When they released their second album a Knuke the Knack campaign was started and so did their downward spiral. But it was a good album so it didn't bug me. Throughout the years I have purchased every single Knack album and enjoyed them immensely. I am a fierce Knack supporter. Todays song comes from their fourth album
Serious Fun
which came out in 1991. Of course it was destroyed by critics but I dug it. See these guys write good cheesy pop music with little hooks to keep you humming that tune all day and that's a good thing. I'd rather listen to the Knack than Coldplay any day of the week.
One Day at a Time
by The Knack