Today in Music History:

In 1988, Dennis Lobban was convicted of the murder of reggae star Peter Tosh, and was sentenced to hang by a Jamaican court.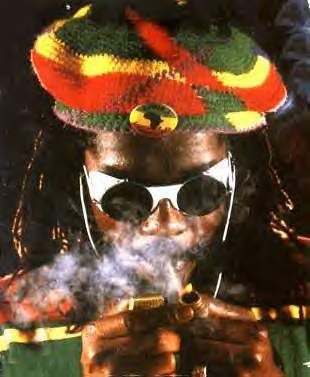 I'm actually going to tie in the music history with today's post. In regards to reggae music I always preferred Tosh's solo work to that he did with the Wailers. In September of 1987 Dennis Lobban, who was an old friend of the Wailers, was staying at Tosh's home. One day he left in a fury after an argument with Tosh's girlfriend. On Sept. 11 1987, Lobban returned with a gang of friends. He claimed that he only intended to threaten Tosh but when it was all over, Tosh and all six of his friends who were hanging out in the room were shot in the head. A shameful waste of a great talent. Tosh's legacy remains undiminished, he was one of Jamaica'smost talented artists and an eloquent spokesman. The track I feature here comes from the 1983 album Mama Africa. On this album Tosh is in prime form both musically and lyrically. Everything that was Peter Tosh is here: from the deep feelings of Mama Africa; to the tell it like it is politicism of Peace Treaty and Glasshouse; the positivity of Feel No Way and Not Gonna Give It Up; to the rootsiness of Maga Dog; as well as one of the BEST all time covers of Johnny B Goode (which rocks as hard as the original but in a reggae style that must be heard to be believed).
Johnny B Goode
by Peter Tosh
This single actually landed in the top 50 in The US.