Today in Music History:

1982, Donny Vanzant of 38 Special was arrested on stage in Tulsa, Oklahoma, (a dry town) for drinking alcohol in a public place.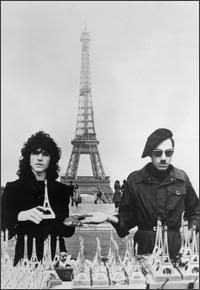 Quirky pop and wise guy wordplay best describes Sparks. Sparks was formed in 1970 by brothers Russel (vocals) and Ron Mael (keyboards and moustache) while attending UCLA. Through the years the group has went through many line up changes and sometimes just the brothers themselves holding down the fort. The Sparks catalog has over 20 albums, and they are still around today. They probably hit their peak in the 80's with the albums
Angst in Your Pants
and
Sparks in Outer Space
. Outer Space is one of my favorite albums because it's so damn fun. My roommates and I managed to destroy 2 vinyl copies of it because we played the piss out of it, especially at parties where a beer or two eventually ended up getting spilled on it. There are two cuts on the album which feature a duet with the perky Jane Wiedlin. Cool Places, which was their biggest hit and Lucky Me, Lucky You which I have here today. A worthy addition to any cd collection.
Lucky Me, Lucky You
by Sparks (featuring Jane Wiedlin)