Today in Music History:

In 1978, The manufacturing of 'Some Girls' the new album by The Rolling Stones was halted at EMI's pressing plant after complaints from celebrities including Lucille Ball who were featured in mock advertisements on the album sleeve.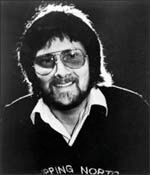 Gerry Rafferty was born in Paisley, Scotland in 1947, the son of a Scottish mother and an Irish father. His father was deaf but still enjoyed singing, mostly Irish rebel songs, and his early experience of music was a combination of Catholic hymns, traditional folk music, and 50's pop music.
At the end of the 1970's, thanks to the song "Baker Street" and the album
City To City
, Gerry Rafferty was a popular music giant. Before his success in the 70's Rafferty had already been a member of two successful groups, the Humblebums and Stealers Wheel. The latter producing the hit single "Stuck in the Middle with You". When
City to City
hit number one in the states Rafferty did not tour to promote the album because he was a bit of a recluse. If he had toured the album probably would have hit double platinum status. Because of this his next album charted well and the critics liked it but the momentum was slowing down.
The track here today is not as well known as "Baker Street", but it happens to be my favorite Gerry Rafferty recording. Rafferty's Paul McCartney-like vocals carry a haunting central melody with a mysterious and yearning lyric that really makes this a good song.
Days Gone Down
by Gerry Rafferty

Daily Funny