Today in Music History:

In 1975, Rolling Stone Keith Richards was arrested by the highway patrol in Arkansas on charges of reckless driving and possessing an offensive weapon, a seven-inch hunting knife.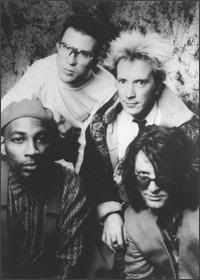 First of all, what the heck was Keith Richards doing driving in Arkansas? Then again this post has nothing to do with Keith.
When the Sex Pistols broke up in 1978, Johnny Rotten (John Lydon) turned around and formed Public Image Ltd. with guitarist Keith Levene, who had been a member of the Clash in one of its early lineups. PiL originally was a quartet that devoted itself to droning, slow-tempo, bass-heavy noise rock, overlaid by Lydon's distinctive rant vocal. By 1984 PiL had released six albums in the UK and three in the states, charting several songs in the UK. 1984 marked the start of Lydon's move toward a more accessible dance-rock style, a direction that would be pursued further untill 1993. That is the year Lydon completed his memoirs. In turn he decided to put an end to PiL and pursue a solo career.
PiL's music is not for everyone and some of the earlier bass heavy stuff was almost unlistenable for me. As the years went by I found myself enjoying each successive PiL album and the last three albums are definitely my favorites.This track comes from the 1992 album
9
.
Happy
by PiL

Daily Funny