Today in Music History:
In 1991, The inventor of The Telecaster and Stratocaster guitars Leo Fender died from Parkinson's disease.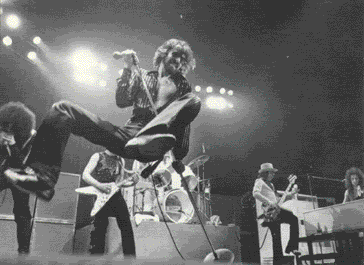 The J Geils Band started out as an acoustic blues trio in the 60's. In 1967 Peter Wolf and and Stephen Jo Bladd joined the group. Wolf and Bladd's specialized tastes of arcane doo wop, blues, R&B, and rock & roll, became a central force in the newly revamped J. Geils Band, whose members positioned themselves as tough '50s greasers in opposition to the colorful psychedelic rockers who dominated the East Coast in the late '60s. Soon, the band had earned a sizable local following, including Seth Justman, an organist who was studying at Boston University. Justman joined the band in 1968, and the band continued to tour for the next few years, landing a record contract with Atlantic in 1970. The band became known for their marathon live performances, with Wolf establishing a reputation as a particularly dynamic frontman. But they were unable to capture their amazing live sound in the studio and never seemed to be able to chart any albums. Then in 1981 Freeze Frame was released and spawned the #1 hit Centerfold.
In 1983, the group was at the height of their popularity, and had gone 17 years without a personnel change. Finally, the J. Geils Band went their separate ways when Wolf and Justman couldn't get their shit together. The band refused to record material that Wolf had written with outside collaborators. In 1984, he released his first solo album,
Lights Out
, followed in 1987 by
Come as You Are
, which spurred the hit single of the same name. In between albums he worked on duets with Mick Jagger and Aretha Franklin, who recruited him specifically for her
Who's Zoomin' Who
album. In 1989, after a six-month songwriting retreat in Nashville, he recorded his third solo album,
Up to No Good
, which appeared the following year. Somewhere in here, I think while he was still with J Geils, Wolf had a brief marriage with actress Faye Dunaway. The J Geils recorded one more album without Wolf and it flopped big time. I believe peter's last release came out in 1998. I was a big fan of the J Geils Band and Peter Wolf. 1984's
Lights Out
is an almost perfect pop album by Wolf and is unfortunately out of print, Amazon has it listed for $150 from third party sellers. Very radio friendly. In 1980 the J Geils Band released Love Stinks which is a must own disc which is still available. Check out a couple cuts from these classic albums.
I Need You Tonight
by Peter Wolf

Come Back
by The J Geils Band

Funny Toon