Today in Music History:
In 1969, John and Yoko were featured on the cover of Rolling Stone magazine, on sale for 35 Cents. John was named as Rolling Stone's 'Man Of The Year'.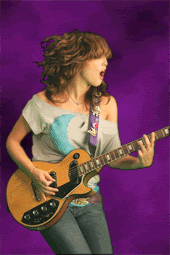 When I first heard The Donnas back in 1998 I was struck by their Ramones meet the Runaways type sound. I thought that these girls held a lot of promise. I mean this was pretty good stuff for a group who recorded their first album while still in high school and were all self taught musicians. Not many bands can say they had to take a week out of their senior year in High school so they could go tour Japan. Through the years the Donnas have grown up and their sound has matured a lot. Make no mistake these pretty gals can rock hard.
All four girls were born in 1979 and started their first band together while in eighth grade. Listening to their early stuff, it's obvious that they were influenced by bands like KISS and the Ramones. They are sometimes described as a punk band, but the band itself says they aren't punk. The band used pseudonyms as a tribute to The Ramones. Each member was known as "Donna" followed by the first initial of their surname. When they released 2004's
Gold Medal
they started using their own names as they felt their music was more mature.
By the release of their third album in 1999 at the ripe old age of 19, they were finally writing all their own material and a distinct hard rock influence began to creep into their compositions. As their songs concerned themselves mostly with boys, booze, drugs, and hated classmates, critics felt that their party-hardy subject matter was less than stellar and felt forced. This didn't stop the girls and in 2001 they signed to major label Atlantic. The Donnas' label debut, Spend the Night,
arrived in 2002 and became their first album to break into the Top 100 of the pop charts. It also earned them their biggest radio hit to date in the single "Take It Off". After two albums with Atlantic they parted way with the label and are currently working on material for a new album. While we await the upcoming record they are self-releasing a digital single of their new song "Don't Wait Up For Me." The single will include a bonus track, a rocked-up cover of "Safety Dance" that they have just finished recording and will not be included on the new record.
Which brings us to the rarities section. While the new songs are not yet available, the Donnas have recorded several songs that have not appeared on their studio albums. Some from compilation albums or soundtracks or even eps. Luckily homercat is here to fill in some of the gaps.
Backstage
is taken from the movie Freaky Friday
Big Rig
was a bonus track available on the Japanese version of Spend the Night
Strutter
(KISS cover) from the movie Detroit Rock City
Speedin' Back to My Baby
(Frehley cover) taken from All Punk Rods: a gearhead magazine compilation.
Take it Off
, an acoustic version recorded live and don't have a clue how I came to be in possession of this one.
Wig Wam Bam
(Sweet cover) from another gearhead compilation album, could also be found on 7" vinyl
Whether or not you're a fan you gotta give props to these girls for what they've accomplished.
Funny Toon