Today in Music History:
In 1974, George Harrison became the first Beatle to undertake a solo world tour when he played the first show of a 30-night tour in Vancouver, Canada.
So I went to the record store today intending to purchase 3 CD's, two of them new releases. I've surfed the web enough to know where exactly to go if I want to download a new release for free. There's plenty of pirate blogs out there. So I know for a fact I could have downloaded all three of the CD's I was looking for from a couple of these blogs I have mentioned. I saw them posted. I prefer to hold the hard copy in my hand,liner notes and all(I read them diligently) and I don't want some crap ripped at 192 kbps, I wants the pure version. Fully intending to purchase them, I went to my favorite haunt. Nil, nada, nothing, not in stock, and that's the rub, these were fairly common artists and should be stocked at all times. I hate having to special order and waiting 3 to 4 weeks for my items. I don't buy shit over the internet and forget about trying to buy something that was released prior to 1995 at any store. Most likely it will be out of print or they don't keep them on hand because there's not much demand for that particular album.
Thus I went home pissed because of the sorry state of most of these record(cd) stores with empty hands and to think I had a huge willingness to fork over my hard earned cash to the mother farking recording industry. Youze guys blew it, I downloaded it. I didn't want to. This blog's purpose has always been to promote the artists and get folks to go out and buy the stuff. I really really wanted these albums so I got them the only way I could. This has been happening a lot lately and I feel like the recording industry has backed me in a corner. Just how in the hell am I supposed to buy an album if it's out of print. You can't, so I download them.
So you're asking yourself, ok homercat, just what in hell does all this have to do with the title of your post, Sue Saad and the Next. Well here it comes.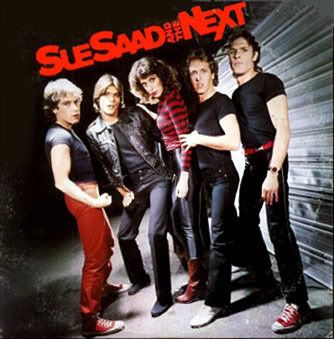 Sue Saad and the Next is a lost gem in rock history. Sue Saad and the Next only did one album way back in 1980. If you have it, you are lucky. If not, look around the used record stores, because it never made it to CD although it should have. A solid rock band, sounding a little like a female fronted Loverboy. At times Sue sounds like Ann Wilson, and the band rocks - well played early 80's rock. They have a bass-heavy beat that is not dance music, and the guitar riffs are memorable. They also have one song on the Roadie soundtrack which was how I was introduced to them. They never made a second album, although Sue and band went on to write music for several movies most notably the soundtrack to Looker.
For those that have not heard of them or don't remember them, here's a track for ya.
I I Me Me
by Sue Saad and the Next
So here's another example of a lost classic that is unavailable for the masses, unless someone you happen to know someone has ripped it from vinyl for you. It's lucky for you guys that you know homercat. While I don't endorse the whole album download thing, I do in this particular case, because I'm pissed off today. I've had a lot of requests for this album from some buds as it is extremely hard to find so here it be. Some of my more canny readers may have already seen this where I put it somewhere else before and snagged it already. It's time that that an injustice be rectified and a lost classic be restored to the masses. A nice clean vinyl rip and it's the least I can do for being away for so long.
192 kbps
Gimme Love Gimme Pain
It's Gotcha
Prisoner
Young Girl
I I Me Me
Your Lips-Hands-Kiss-Love
I Want Him
Cold Night Rain
Won't Give It Up
Danger Love
http://www.megaupload.com/?d=Z4U34UTM
password=homercat
Funny Toon