Today in Music History:
In 1977, Joe Strummer and Nicky Headon from The Clash were each fined £5 ($8.50) by a London court for spray-painting "The Clash" on a wall.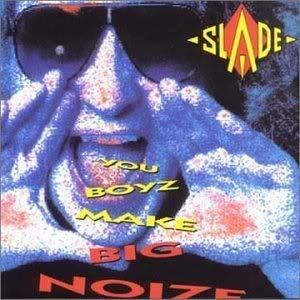 Released in 1987
You Boyz Make Big Noize
would be the last studio album by the original lineup by the British glam/hardrock group Slade. The album title was inspired by a phrase uttered by Betty, the tea-lady at Wessex recording studio where they were recording. The critics hated it which I don't get at all because there's some great rockin' stuff here. In fact, this album and Rogues Gallery are my two favorite Slade albums. Some hardcore Sladests would say just the opposite, that those two albums were their weakest. I would have to vehemently argue that. Screw the critics and the Slade purists. As a matter of fact Slade always seems to get the short end of the stick, who knows why these British rockers are nuked by the mainstream, metalheads, critics, and America. All the singles pulled from this album were of a high standard, and contained some very catchy hooks and riffs. This album kicks ass. Don't get it if you don't like loud guitars. If anything it might have a more commercial sound and has typical eighties production values, if you want to pick at it. For my collection this is an essential must have album. In short this album needs more love, so what do you say folks, give it a try.
Sing Shout (Knock Yourself Out)
You Boyz Make Big Noize
Buy It
Funny Toon