Joanna Dean was an up and coming promising rocker whose voice was a cross between Janis Joplin and Bonnie Raitt. If you've never heard her you'll be floored at the raspy,gritty,soulful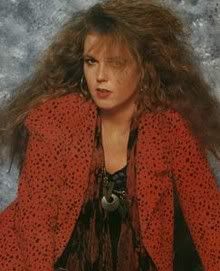 power of her voice. Joanna Dean released her first album in 1988 called Misbehavin', which is very hard to find now. I posted that album earlier in case you missed it so get it quick. Joanna Dean is a rare talent that most people will never have the pleasure of knowing. Not since the likes of Janis Joplin, has there been a singer that put as much of her soul in a song. With only two albums to her credit it is impossible to compare her to Janis, but she is close.

For her second album Dean formed a band and they called themselves Bad Romance. Joanna wrote or co-wrote all but one tune on her second album, "Code of Honor" which came out in 1991. The album was marked by a dark, somber tone and included songs about alcoholism and suicide. The one cover tune, "Love Hurts," was recorded as a duet with Tom Kiefer of Cinderella. Don't let the album cover or the dark somber tone fool you. This album is categorized as Heavy Metal and from the opening track it packs a helluva punch. A review on her self titled album says she is no longer recording and is now a graphic designer. What a shame. Truly an overlooked talent that should have been huge. This album is out of print yet is available from certain sellers sometimes at an exorbitant price. If you can find a copy you are lucky.



House of My Father
Code of Honor
Buy It


Funny Toon